Hire Bagpiper Band for Shobha Yatra Nagar Kirtan Cultural Program. With 18 years of experience we have been providing our services across India.
We provide services for corporate events, Inaugurations, Reception, Shobha Yatra, Nagar Kirtan,Road Show, Rallies, Parties, Stadium programs, Opening ceremony etc. Being the best pipe band services provider in India,
we are committed to offer genuine and the most satisfactory services to our clients. Our team members are very professional, experienced who perform more than you expectations.
Our services are always reliable and trustworthy.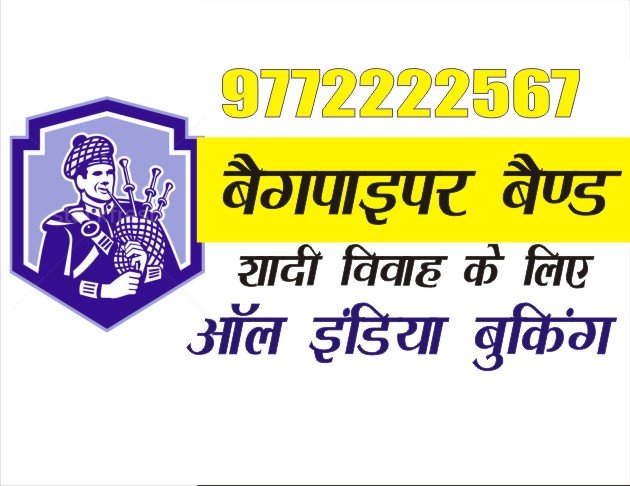 We use latest musical instruments to make your function more enjoyable and joyful.
Due to our cost effective & enjoyable services we are popular for our work through out India..
Our team is very talented, dedicated to their work, capable to making your festivals, functions and weddings more delightful and
as we play music as per your demand.
We always look for a prospect to make your wedding, festival, function more charming,graceful and entertaining.


Hire Bagpiper Band for Shobha Yatra Nagar Kirtan Cultural Program
If you want to create an everlasting impression and indelible mark on heart of the audience
and make the event unforgettable, then consider hiring a professional Bagpiper Band.
Hiring a Pipe band for a special occasion or festive event is simply the best choice you can make. We can play for Nagar Kirtan and
Shobha Yatra equally.
Our impressive uniforms and incredible tunes grab the attention of every guest present in the party, shobha yatra or nagar kirtan.
We are specialists & incorporate more liveliness to any occasion, social gathering or wedding or event with
our dynamic performance and we ensure to keep the guests entertained. f
Be it the music that bagpiper band provides or the uniforms which attract everyone,
everything that is related to Bagpiper which we provide is of top notch standards.
Our bagpiper players are specialists & are experienced and they know when to be subtle and when to be loud at occasion. They play the drums and the
bagpipes according to the situation or occasion, when it comes to the wedding we provide lively beats and when it comes to vidaai or other occasion,
we play a bit sobre tunes. We play according to the audience, and their mood. We play bagpipes when needed to be upbeat, and a little subtle when it
is a calm gathering, we play suitably. We have experience for all sorts of audience and all kinds of occasions.
We have provided our services in this realm to a plenty and variety of clients.
We are known as the service providers, who cater to the exact needs of our clients.
Kings Bagpiper Band Provide services for all kinds of programmes like Wedding Functions, events, Shobha Yatra & Nagar Kirtans etc.
We offer best services to our clients. Every time we perform, our clients admire our work and appriciate us.
Wedding Functions:
Wedding traditions are a strong reflection of Punjabi culture celebrated with Dhol, Band Baaja & song & dance.
We provide our Bagpiper Band services in wedding functions.
NAGAR KIRTANS
Nagar Kirtan is a Sikh custom involving the processional singing of holy hymns throughout a community.
We also provide services in Nagar Kirtans.
CULTRAL PROGRAMS
We are also providing our services in seasonal festivals, which include Maghi,
Mela Chiraghan in Lahore, Lohri, Holi, Baisakhi etc.
SHOBHA YATRA
A number of Shobha Yatras are held in pnjab in a year and
we feel proud that are providing our services in such functions.
OTHER PARTIES
Our Pipe Band (Bathinda) is always ready to serve people in every
type of party and always try to do it's best in every function.
Have you ever noticed that people who are celebrating weddings or organising an event these
days look for something innovative or exceptional in terms of entertainment?
Whatever the type of functions may be, People always try to include something different some thing unique and innovative
to please their audience & guests,so that they could remember this occasion for lifetime. Currently, bagpipe bands are gaining popularity.
Bagpipe Band provide one of a kind musical journey which takes you to a new entertainment World.
There are a lot of reasons that people are including Bagpipe Bands in their functions. Some of them are given below:
punctuality, one of a kind traditional style, services by professionals and across the globe.
Book Bagpiper Band for Wedding, Bagpipe Band For Wedding Party in Mumbai, Goa, Jaipur, Udaipur, Nagpur, Delhi, Noida. Gurgaon.

Salient Features of Bagpipe Band:
-Economical Prices
-Good Client Services
-Always Punctual
-Ability to meet the large number of programs at same time
-Well Professionals & Experienced Team
-Client Centric Approach
-Seasoned Team
-Best Performance