Military Army Fauji Bagpiper Band Booking Jaipur | Udaipur | Jodhpur | Ajmer| Bikaner
Military Army Fauji Bagpiper Band Booking Jaipur Udaipur Jodhpur Ajmer Bikaner

Bagpiper Band Booking is easier said than done. When it comes to reliable Bagpiper band services for weddings in Delhi, Gurgaon, NCR & North India, Kings Bagpiper Band is the foremost name you can reckon with. Kings Bagpiper Band Provide services for all kinds of programs like Wedding Functions, events, Shobha Yatra & Nagar Kirtans, etc.
We offer the best services to our clients. Every time we perform, our clients admire our work and appreciate us.
Wedding Functions:

Wedding traditions are a strong reflection of Indian Traditions & Culture celebrated with Dhol, Band Baaja & song & dance.
We provide our Bagpiper Band services in wedding functions.
You can rely on us for the most economical prices and top-notch services across the nation.
You can call 9772222567 to book Kings Bagpiper Band.
Jaipur, Jodhpur, Kota, Bikaner, Ajmer, Udaipur,  Bhilwara, Alwar, Bharatpur, Ganganagar, Sikar, Pali,Tonk,Kishangarh,Beawar,Hanumangarh,Dhaulpur,Gangapur City,Sawai Madhopur, Churu, Jhunjhunu ,Baran, Chittaurgarh, Makrana,Nagaur. Ludhiana, Amritsar, Jalandhar, Patiala, Bathinda, Bhatinda, Ajitgarh, Hoshiarpur, Moga, Pathankot, Batala, Abohar, Maler Kotla, Khanna, Phagwara, Muktsar, Barnala, Firozpur, Kapurthala , Zirakpur, Rajpura, Kot Kapura, Sangrur, Faridkot, Mansa, Gobindgarh.
Mumbai, Pune,Nagpur,Nashik,Vasai-Virar, Aurangabad, Solapur, Bhiwandi, Amravati, Malegaon, Kolhapur, Nanded, Sangli, Sangali , Jalgaon, Akola, Latur, Ahmadnagar, Dhule, Ichalkaranji, Chandrapur Parbhani, Jalna, Bhusawal, Navi Mumbai, Panvel.
Fauji Bagpiper Band For Weddings, Corporate Events in Jaipur Udaipur, Military Band For Marriage, Army Bagpipe Band in Jaipur, Delhi, Udaipur,Mumbai,Pune,Ahmedabad,Bangalore,Noida,Gurgaon By the way, have you ever noticed that people who are celebrating weddings or organizing an event these days look for something innovative or exceptional in terms of entertainment?


Whatever the type of functions may be, People always try to include something different something unique and innovative to please their audience & guests, so that they could remember this occasion for a lifetime. Currently, bagpipe bands are gaining popularity.
Bagpipe Band provide one of a kind musical journey which takes you to a new entertainment World. There are a lot of reasons that people are including Bagpipe Bands in their functions. Some of them are given below: punctuality, one of a kind traditional style, services by professionals and across the globe.
please get in touch for Bagpiper Band Booking 9772222567.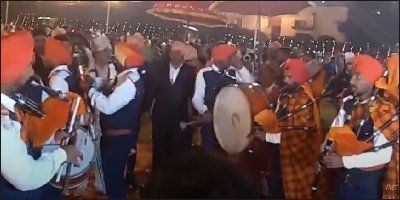 Tags:  
Bagpiper Band Booking Jaipur Udaipur Jodhpur Ajmer Bikaner, Famous Army Band For Patiala Amritsar, Military Band for Wedding,Famous Army Band For Hire, Wedding Pipe Band,
Patiala Military Band for Wedding, Wedding Bagpiper Band Patiala, Fauji Bagpiper Band For Mohali Patiala Amritsar, Army Pipe Band, Wedding Pipe Band Patiala, Punjabi Bagpiper Band in Patiala, Book Military Army Fauji Bagpiper Band for events in Jaipur, Hire Fauji Bagpiper Band for wedding in Udaipur, Military Army Bagpiper Band performance in Jodhpur, Fauji Bagpiper Band for hire in Ajmer, Bikaner Military Army Bagpiper Band for events, Jaipur Army Bagpiper Band for hire, Udaipur Fauji Bagpiper Band for wedding, Jodhpur Military Army Bagpiper Band for hire, Ajmer Fauji Bagpiper Band for events, Bikaner Army Bagpiper Band for hire, Military Army Bagpiper Band performance in Jaipur, Book Fauji Bagpiper Band for events in Udaipur, Hire Army Bagpiper Band for wedding in Jodhpur, Fauji Bagpiper Band for hire in Ajmer, Bikaner Military Army Bagpiper Band for wedding, Jaipur Army Bagpiper Band for events, Udaipur Fauji Bagpiper Band for hire, Jodhpur Military Army Bagpiper Band for events, Ajmer Fauji Bagpiper Band for wedding, Bikaner Army Bagpiper Band for events, Military Army Bagpiper Band for hire in Jaipur, Book Army Bagpiper Band for wedding in Udaipur, Hire Fauji Bagpiper Band for events in Jodhpur, Military Army Bagpiper Band for events in Ajmer, Bikaner Fauji Bagpiper Band for hire, Jaipur Army Bagpiper Band for wedding, Udaipur Military Army Bagpiper Band for events, Jodhpur Fauji Bagpiper Band for hire, Ajmer Army Bagpiper Band for events, Bikaner Military Army Bagpiper Band for hire, Military Army Bagpiper Band for wedding in Jaipur, Book Fauji Bagpiper Band for events in Udaipur, Hire Army Bagpiper Band for wedding in Jodhpur, Military Army Bagpiper Band for hire in Ajmer, Bikaner Fauji Bagpiper Band for wedding, Jaipur Army Bagpiper Band for hire, Udaipur Military Army Bagpiper Band for hire, Jodhpur Fauji Bagpiper Band for events, Ajmer Army Bagpiper Band for wedding,
Bikaner Military Army Bagpiper Band for events,
Military Army Bagpiper Band for events in Jaipur,